If you look back in history of the women who are most memorable and most stylish, they were never the followers of fashion. They were the ones who were unique in their style, breakers of the rules. They were authentic, genuine, original. They were not following the trends.
-Nina Garcia
—————————-
I feel a little redundant since my last style crush was Winona (partially for her menswear inspired looks), but I definitely wanted to a do a post on my crush on Annie Hall. Ok, I know am not the first girl to drool over Diane Keaton's slouchy button downs and vests in this iconic film. Although I am not one to directly copy her ensembles, I use the character's wardrobe for light inspiration sometimes. I also employ some more modernized copy cats. Here are some of my favorite vaguely Annie Hall outfits: 
What I love about these looks is that they capture a soft, no-fuss elegance, and scream: "I dress for me!" Maybe that is just my opinion, but what I love about quirky Annie Hall is that she sure as hell wasn't dressing for Alvy Singer. She was dressing for Annie Hall. I think menswear inspired outfits are so beautiful because they give women a subtle masculine power and to me these outfits show that women can wear men's clothes better.
Here are some modern pieces I've found from affordable retailers to help you assemble your own swoon-worthy, spring version of Annie Hall's adorable duds. The beach bag is a bit of a splurge but I thought it was too cute not to include.
Wear this perfect textured-weave blouse from H+M with all the buttons buttoned (to the chin) and maybe a brooch or thin tie to add that signature Annie twist. Also check out this vintage inspired Modcloth Blouse (super cute).
Add these high waisted chambray pants from F21 and tuck your blouse right in.
Try some pointed shoes or clunky wedges to keep the outfit from going too frumpy like these options from Loft:
Chunky Black Wedge                           D'Orsay Flats
And don't forget a black hat for extra character and a slouchy beach bag: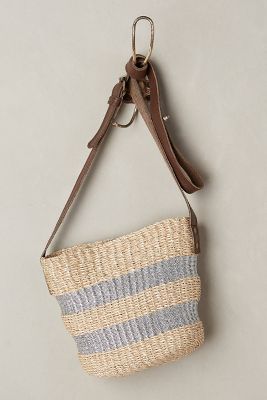 Keep crushing!
X,
E